June 2, 2018
Our next stop in the Izu Islands was Miyake-jima (三宅島).
The volcano here is very much active.
Oyama has erupted several times throughout the 20th century. Consequently, the island had to be completely evacuated from 2000 to 2005.
The centre of Miyake-jima is off limits due to toxic emissions from the volcano. Residents were required to carry gas masks for several years following their return home.
Getting around Miyake-jima
The bus follows a loop around the perimeter of the island, making it much easier to navigate than the bus service on Hachijo-jima (八丈島).
However the service is not very frequent. It's fine if you want to see a couple of places in a day, but not really suited to a whistle stop tour of each point of interest. You would be better off renting a car or a bicycle if this is your plan.
Luckily the inhabitants and holiday makers on Miyake-jima are a friendly bunch.
Two sweet old ladies stopped and offered us a lift when we were attempting to walk a particularly long stretch of road towards one of our desired destinations.
You can buy a two day bus pass which will save you money if you intend to use the bus more than three times. The driver can sell you a pass when you board the bus.
Where to stay
Miyake-jima has many guest houses on offer. True to form, we hadn't booked a place to stay.
Tourist information appeared to be closed.
A taxi driver approached us and got us a good last minute deal at a guest house on the north side of the island. We were reluctant to take a taxi but it turned out to be well worth the fare.
Our stay included breakfast and dinner. Usually this involves fresh fish from the island. They provided beautiful veggie dishes for us on request.
We were very happy with our stay but in terms of location it would probably have been more convenient to be on the south side of the island. That way you would be closer to more of the attractions.
What not to miss
You can see evidence of the volcano's devastation around the island's perimeter.
Ako Lava Flow Trail is a poignant demonstration of this.
You can walk through the lava flow that resulted from an eruption in 1983, burying hundreds of homes. Thankfully there were no casualties.
This island feels alive. The solidified lava flow sprawls around you like a giant out breath. I can't imagine how it must feel to live here as the mountain breathes in.
Walk along the Imasaki Coast leading up to the lava flow trail and you will be surrounded by the lava flow of an older eruption.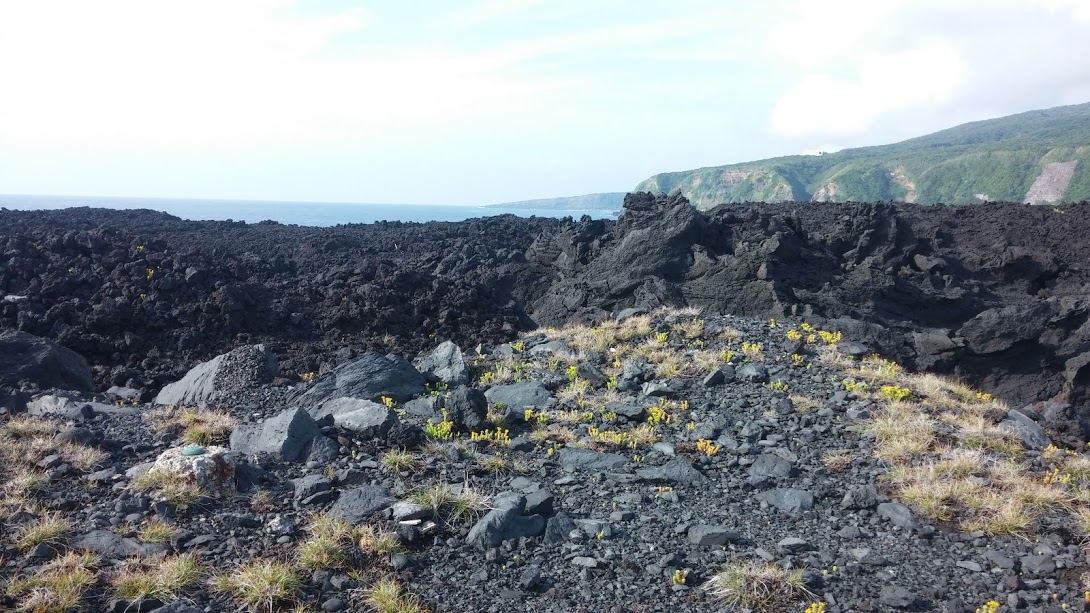 It's easy to think of a volcano as destructive but it is a creative force too. None of these islands would be here if it weren't for volcanic activity.
Midway along the Imasaki Coast you will pass Megane-iwa, so named because it once looked like a pair of spectacles. One of its arches collapsed during volcanic activity.
Nippana Shinzan is another vivid illustration of the island's volcanic legacy. It is a spectacularly precarious cliff formed of black and red sand.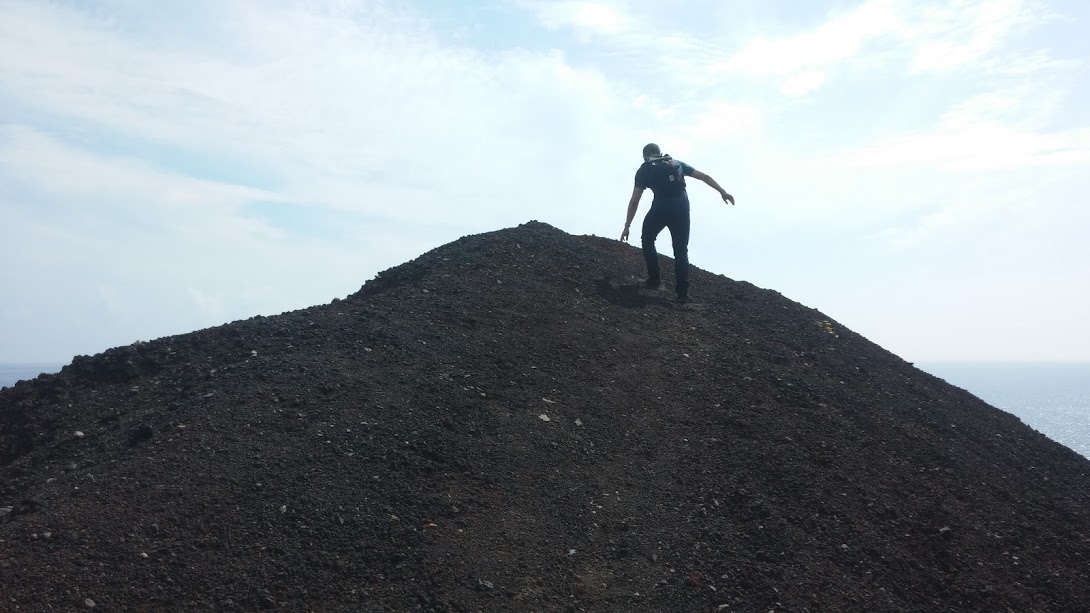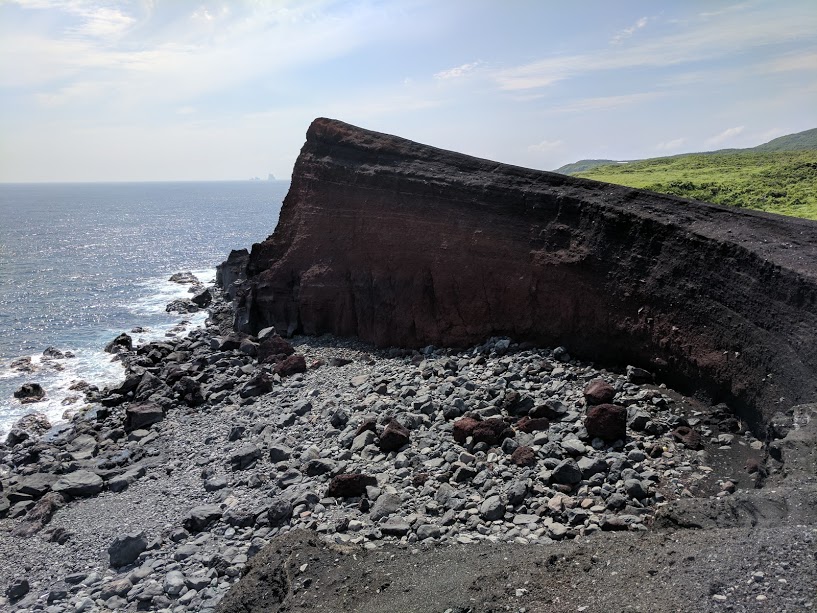 Things to see if you have more time
Tairo-ike is a 2000 year old lake that formed within a volcanic crater on the south side of the island. Woodland surrounds the lake, making it a great spot for bird watching.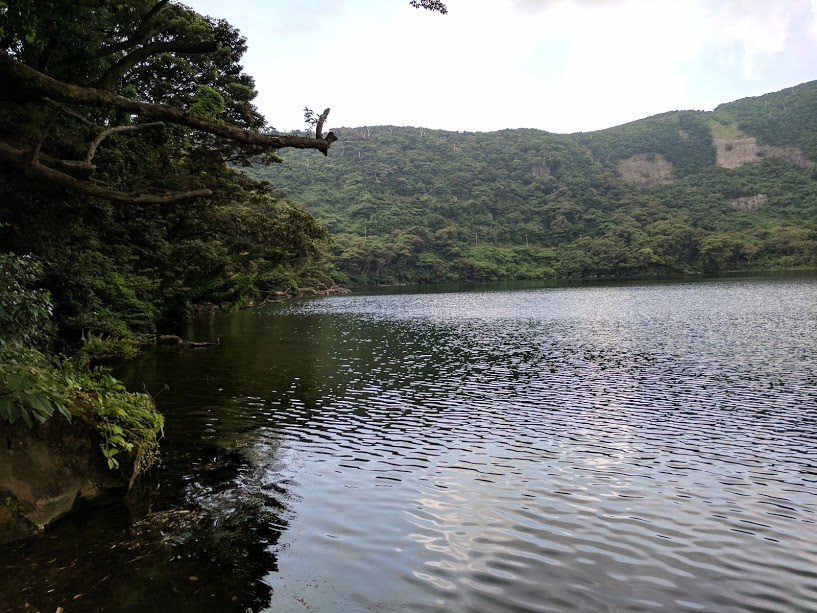 We also walked along Cape Izu past Izu-masaki lighthouse. This is pretty but the Imasaki Coast is more dramatic if you are pressed for time.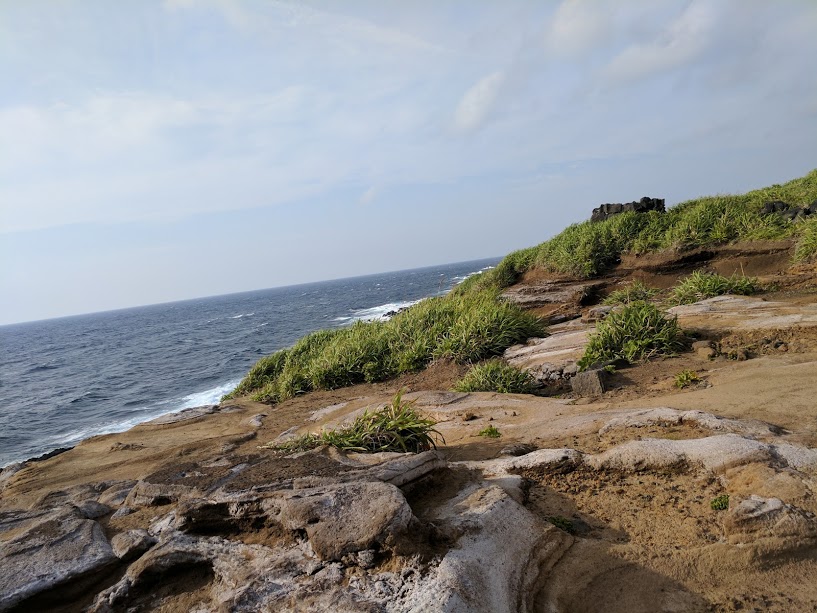 I sat on Okubo black sand beach feeling like I was on the set of a Tim Burton movie.
Apparently a good spot for swimming and diving, the waves made this distinctive sighing sound as they drained through the black pebbles:
Unfortunately we didn't have time to visit Shichito Observatory. This vantage point is located just outside of the restricted central section and offers views over the island.
The best way to reach the observatory is by bicycle. You can rent bikes down in the village. It costs ¥1500 for half a day or ¥2500 for a full day.
This magnificent tree stands near the Former Island Administrative Office on the north side of the island. The office dates back to the Edo period.
How to get to Miyake-jima
Miyake-jima is the first stop on the ferry from Tokyo bound for Hachijo-jima. This portion of the journey takes about six and a half hours and our tickets cost ¥6510.
We stayed on the island for three nights. You would need around four days to see everything. Allow another half a day if you plan to dive with the wild dolphins around nearby Mikura-jima (御蔵島).
The home of the dolphins was our next destination.