September 21, 2018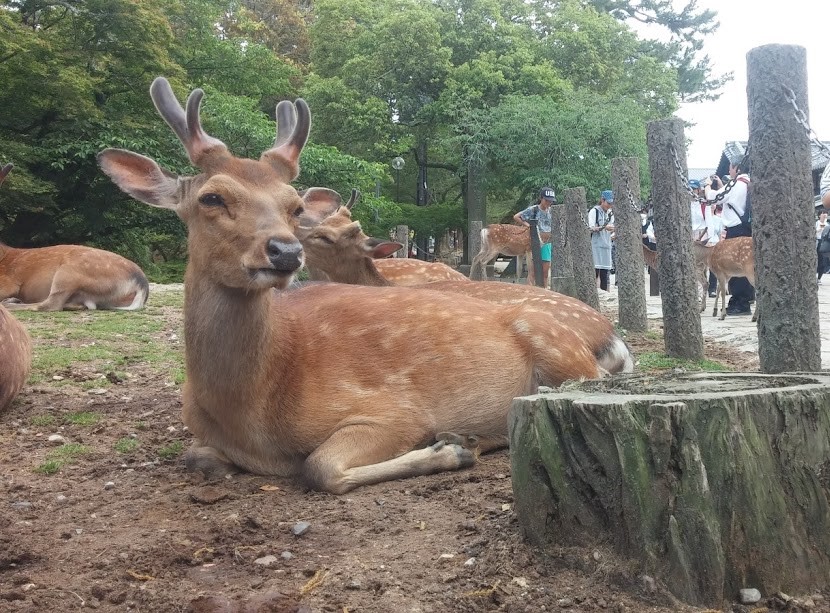 At the centre of this ancient capital of Japan lies Nara Park (奈良公園); a wide open space filled with temples, shrines, museums and galleries.
And a lot of souvenir stands.
The most famous landmark in Nara is Todaiji Temple (東大寺) . But Nara Park is perhaps most famous for its resident deer population.
Todaiji Temple (東大寺)
The most popular destination in Nara Park is Todaiji Temple. It is one of the largest wooden structures in the world. As one of the Historic Monuments of Ancient Nara, Todaiji Temple is a UNESCO World Heritage Site.
Opening times
7:30 – 17:30 (April – October)
8:00 – 17:00 (November – March)
Entrance tickets costs ¥600.
The deer of Nara Park
Long considered a good omen sent by the gods, the deer here have been allowed to thrive. Once shy inhabitants of the forest, these contemporary deer have lost their fear of humans.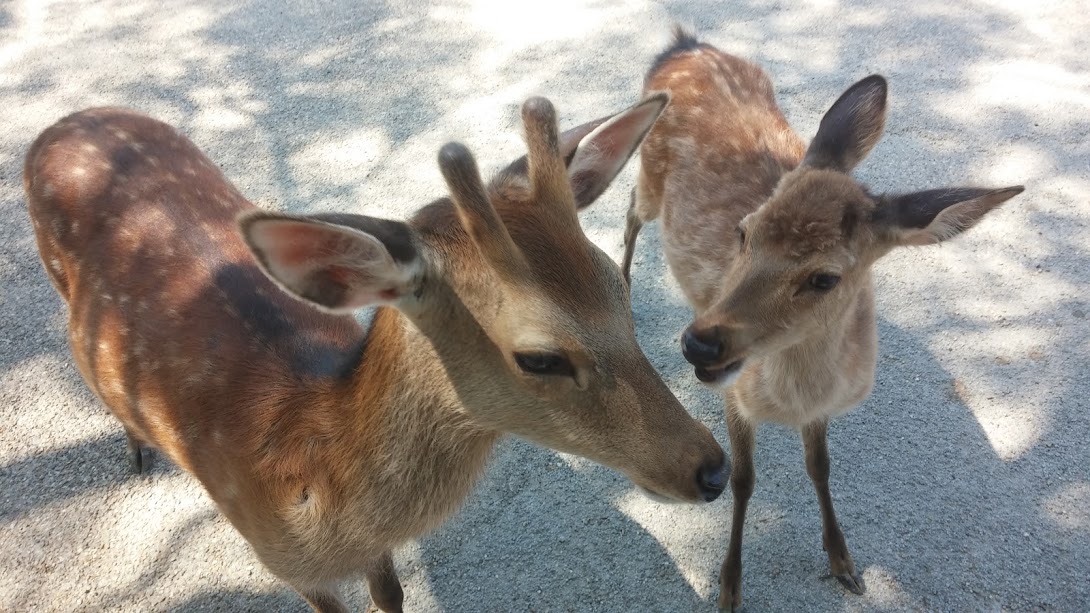 The similarity between a deer bowing its head and a respectful Japanese greeting has, over time, resulted in people  rewarding the deer with food. The deer in Nara Park have learned that bowing their heads will result in being given snacks by tourists. Deer will approach you and bow, expecting a treat in return.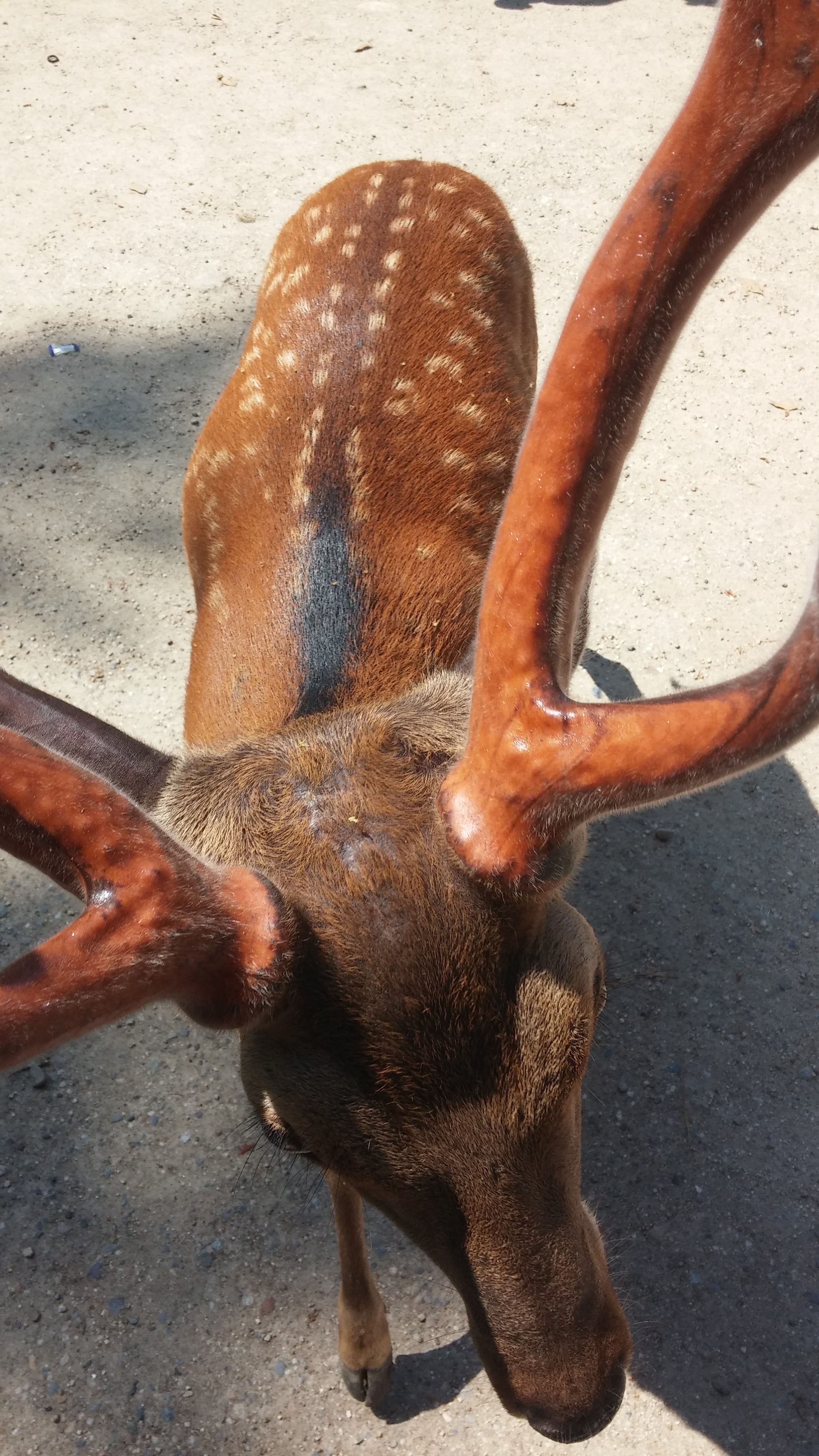 You can purchase 'deer cookies' from stands around the park. These are actually rice crackers and don't contain any sugar, so are safe for the deer to eat. (Don't feed them any other snacks!) Pro tip: Do not put the empty 'cookie' wrappers inside your bag. The deer will then try to eat your belongings. There are plenty of rubbish bins within the park.
What no one told me is that whilst a young deer bowing its head is quite adorable, a deer with a full set of antlers performing the same gesture can be a little more intimidating. Some of the deer are more 'polite' than others. This magnificent fella was making a demand, not a request.
The deer will not try to hurt you, but don't tease them, and be careful of your fingers. Some tourists each year do get bitten.
I wandered into Kasugayama Primeval Forest to escape from the heat and the crowds. Some of the deer obviously had the same idea. The noise of the crowds quickly melts away as you walk between the trees. The forest is another UNESCO World Heritage site.
I don't usually buy souvenirs but I have a weakness for novelty Japanese socks. (They're adorable AND practical!) I was on a mission to buy deer socks and Nara did not disappoint.
How to get to Nara Park
Due to differing train routes and speeds, Nara can be reached from either Kyoto or Osaka in an hour for around ¥700. An express train is available from Kyoto which only takes 35 minutes, but it costs almost twice as much so I would just take the regular train.
The edge of Nara Park is about a ten minute walk from Kintetsu Nara Station. It will be obvious which way to go, just follow the crowds of people.
If you're interested in cute animals, Buddhism, history or Japanese architecture, then Nara is well worth a visit. Avoid spring and autumn if you want to miss the crowds. I visited as a day trip from Osaka, which was enough time to see the main sites. Allow two or three days if you want to see everything in Nara Park as well as venture out into other parts of the city.