October 9, 2018
After spending a few days in Kyoto, exploring the city and visiting the famous Fushimi Inari Shrine, the temperature was beginning to climb. Kyoto is a uniquely beautiful city that doesn't really feel like a city. Even so, I was craving a place to swim. So I was delighted to discover the existence of white sand beaches less than an hour from Kyoto at neighbouring Shiga Prefecture's Lake Biwa (琵琶湖).
Lake Biwa is huge. It is the largest freshwater lake in Japan and provides water for millions of people in the Kansai region. This was my first time visiting a lake on this scale, and it really did feel like being by the ocean. Clear, calm waters stretched out to the horizon.
Lake Biwa is thought to have been named because of its resemblance in shape to a Japanese musical instrument. The biwa is a type of lute derived from the Chinese pipa. Unlike the pipa, which is plucked with the fingers, the biwa is played using a large plectrum and usually accompanied by singing.
Here is a masterful performance by Kumada Kahori. This song tells the story of Nasuno Yoichi, a 13th century samurai archer.
Swimming in Lake Biwa at Omimaiko Beach
There are many places around Lake Biwa where you can go for a dip. Omimaiko Beach is perfect as it is close to Kyoto, easily accessible by train, and boasts long stretches of white sand sheltered by pine trees. There are barbecue pits spread out along the beach.
I visited Omimaiko Beach at the end of March, before the beginning of the tourist season. It was around 20°C which was plenty warm enough for a Brit to take a dip. If you prefer hotter weather you might want to wait until May/June. The advantage of visiting when I did was that the whole place was practically deserted, so I had the beach all to myself.
This also meant that all of the restaurants were closed, and even most of the vending machines were not in use. If you find yourself here without provisions, there is a 7-Eleven about a 10 minute walk from Omi-Maiko Station. Instead of heading east out of the station, head away from the lake, towards the mountains and rice paddies. It feels counter-intuitive to walk along the main road, but this walk is actually worth it just for the view.
How to get there
Omimaiko Beach can be reached by train from Kyoto Station in 45 minutes. You need to join up with the Kosei Line and then take the train north to Omi-Maiko Station.
Where to stay
I took to the train to Otsu Station (9 minutes from Kyoto Station) and stayed in a capsule hotel called Calendar. I'm always impressed with Japanese capsule hotels. They're basically really fancy hostels where your bunk has walls so it feels private and everyone is really quiet and considerate. Calendar has separate male and female dorms. The whole place was spotless and they let me drop off my bag in the morning so I could go exploring as check in didn't open until 4pm. One night costs around 3500 yen.
I stayed for two nights and got off at many stops along the Kosei Line to explore the villages alongside Lake Biwa. The lake can also be reached on foot from Otsu Station. From here, you can take a cruise on Lake Biwa. You could also easily visit Omimaiko Beach as a day trip from Kyoto.
Floating Torii at Shirahige Shrine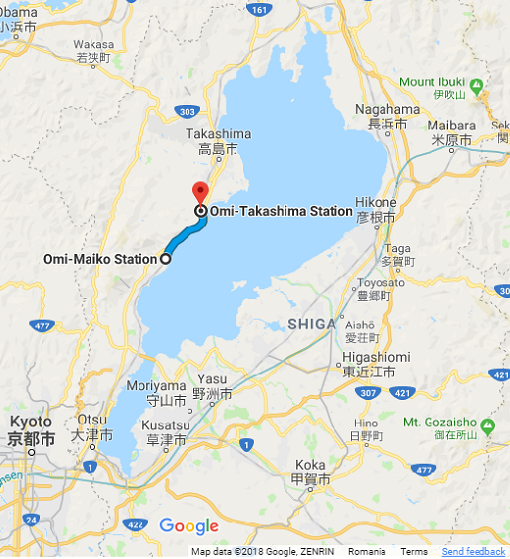 One of Japan's most famous landmarks is the floating torii at Itsukushima. However, less people are aware that Lake Biwa has its own floating torii at Shirahige Shrine. To get here, you need to stay on the train for two more stops after Omi-Maiko Station, and get off at Omi-Takashima. Walk down to the lake and then head south towards the shrine. The lake will be on your left.
From here, it is a 3o minute walk to the shrine. The first part of the walk is along a charming path beside the lake. The last 5-10 minutes involve walking along the side of the busy Nishi-Oumi Highway. So do be careful; stay visible and be aware of oncoming traffic.
To this day, I still don't know how I managed to miss the rest of the shrine. I must have been metres away from the steps. In my defense, I was thrown off by the huge highway running through the middle of it.
Don't be like me. Cross over the road and explore! Go visit Shirahige Shrine and let me know what I missed!